The Peacock Gym in Canning Town is long and narrow and, on first appearance, full of menace. On the left of a large reception room there are plastic tables and chairs, which are empty, except for a man who sits alone. To the right, a glass counter full of sandwiches that have seen better days. Behind the counter a man with a face like a ragged coastline nods his head as I approach him. I buy a bottle of water, thank him – hard as nails – and wander off towards the boxing ring in search of the talent.
The man I am looking for is Anthony Yarde.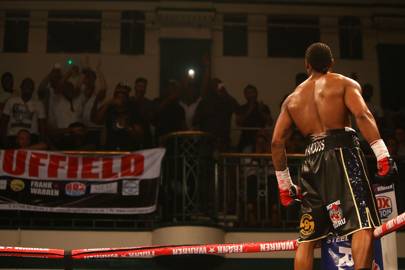 Anthony Yarde's story starts at school. As a teenager he excelled at sport. He loved football and dreamt of turning professional, only to be plagued by injury. He was a talented athlete – sub eleven seconds over 100m – and he was invited to play rugby at Harlequins at the age of 16. Although the attention excited him, something was missing. "I had no passion for either sport", he later tells me.
Boxing, however, was different.
Yarde would watch fights on television and quickly became fascinated by Mike Tyson. How did Tyson, this ferocious but relatively small man, knockout these heavyweight giants? Yarde was intrigued; the boxing bug had bitten him. Yarde's mother, however, was not so keen. As a fan of Michael Watson – the ex-boxer who suffered a near fatal injury against Chris Eubank in 1991 – the memory of that fateful night was all too real. Boxing was the last thing she wanted for her son. Yarde spent the next few years trying to convince her otherwise. Eventually, when he was 18, his mother relented. Yarde started to train and, more importantly, he began to study the art of prizefighting.
Back in East London, where Yarde is training for the first defence of his title, we talk under the watchful eye of Tom, part of #TeamYarde, and the fearsome man selling the sandwiches. Camp is almost over and Yarde is relaxed. He speaks softly and chuckles often. He tells me about his childhood, a time spent mostly with his mother and two sisters, growing up in Forest Gate and later Stratford. He recalls his short-lived amateur career in which he "absorbed everything", but struggled for fights – an explanation, perhaps, for his limited experience. He also breaks down the upcoming super-fight between Gennady Golovkin and Saul "Canelo" Álvarez, which, coincidentally, is the same night as his own contest. He explains, in detail, why Canelo has the higher boxing IQ and how – fighting side-on, using his feet – he can stop Golovkin. It is a bold statement. After all, Golovkin has never even been wobbled let alone knocked out. But he is probably right. When Yarde talks about boxing you tend to accept what comes out of his mouth as truth.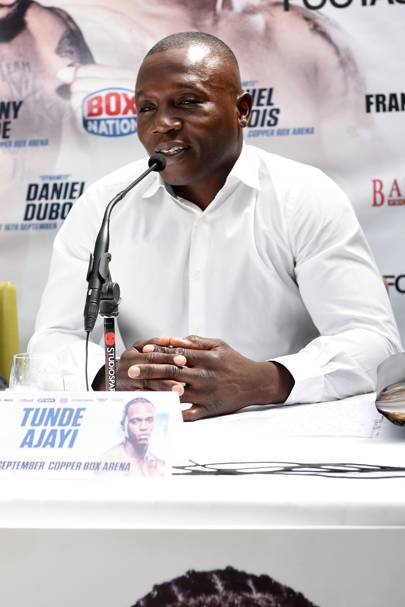 We turn our attention to his trainer, Tunde Ajayi, who Yarde met through a mutual friend in 2011. Both men believe their meeting was serendipitous. A case of water seeking its own level, as Yarde eloquently puts it. He says, in the past, he has always found it difficult to listen; with the exception of his mother, he would not be told. But when he met Ajayi something changed. The two men bonded over boxing and shared experience, and forged a partnership built on mutual respect. Yarde does not go into detail about the shared history but he will concede he is happy to have a male influence in his life. "Tunde brings out the best in me", he says. Ajayi has obviously had a huge impact on the life and career of his fighter, but both men have benefited from the relationship, that much is also clear. "We have been through a lot", Yarde goes on to say, "but the main thing is we are both obsessed with hard work and progression."
hat hard work and progression has turned Yarde into a potential star. Now 26 years old, he is thick set with a superhero physique that deceives the eye. The width of his shoulders and torso make him look several inches shorter than his six-foot frame. Like a stocky dwarf or a bulldog. After eleven knockouts in 12 fights his power is unquestioned. Of course, his heavy hands are due to his natural strength and finely-tuned timing, but they are complemented by his near perfect balance. In the ring he sits low in his stance, head dipped, like a loaded gun – similar, in fact, to the man he watched as a boy, Mike Tyson. But it is not until Yarde plants his feet that you witness the beauty of his balance. When fighting up close, on the inside, he has the ability to transfer his weight up from his feet through the turn of his hips and into his gloves, without loss of momentum or speed. The transition is seamless. The movement brings to mind a Rory McIlroy drive or a forehand from the racket of Roger Federer. It is a skill only seen in elite fighters and, as his previous opponents will tell you, one that generates explosive results.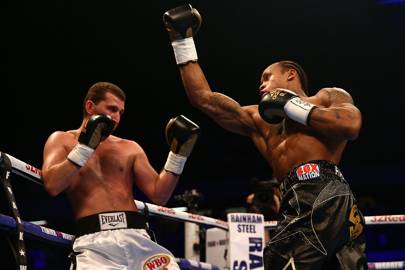 However, there is more than one string to his boxing bow. The most impressive thing about Yarde is not his power – it is his patience. With no amateur pedigree he would be forgiven for being a brawler, for appearing "raw". But this could not be further from the truth. Yarde is cool and clinical. He studies, he watches, he waits. As a rule unseasoned fighters tend to rush in and smother their work; Yarde is measured and precise. For someone with so few rounds under his belt his ring-craft is extraordinary. I ask him if he is conscious of his style, his response is – like his boxing – incisive: "I believe when you rush your work, you're not thinking about what you're doing. That's when you make mistakes." But Yarde wasn't always so composed. He tells me that when he first started he was an animal. "I wanted to look like Mike Tyson", he says, "But then I started to realise, in a twelve round fight, you must be patient." Every single novice pro is told to be patient when they step into the ring. Few manage to do as instructed. Fewer still make it look easy.
With all that talent it is easy to forget that Yarde has only had 12 fights. He is still some distance from a world title shot. He has looked good, yes, but the quality of opponent he has faced has been no better than average. It would be foolish to deny that. When I ask him if it is time for a proper test, he stops talking. I wonder if I have stepped over the line. But, then, he flashes what has now become his customary grin and I am quickly reassured. Yarde insists his opponents are getting better. And that it is not his fault if he keeps knocking them over like dominos. He is right, of course. He also knows that tougher challenges are to follow: "My tests will come", he says, "At the right time."
There is no reason to think Yarde would fall short at world level. But, right now, there is no reason to risk finding out. Yarde, like any other precious commodity, will be taken care of, his boxing future meticulously plotted by his team. Part of that team is promoter Frank Warren. Warren has been in the fight game for the best part of 40 years. Along with Tunde Ajayi, there is no one better placed to decide when Yarde steps up. It is just a matter of time.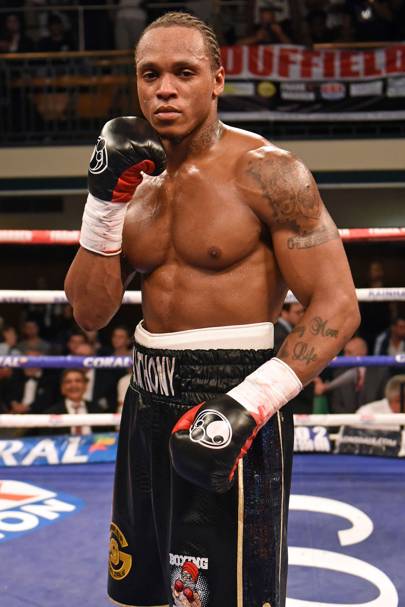 Ajayi may not admit it, but he knows they are on the verge of something big. Later, when the teacher has taken the seat of his student, we talk about the progress they have made. "The journey has been nothing short of magical," he says. He tells me he has worked in the best gyms, with the best fighters, and that Yarde ticks all of the boxes. He is convinced. When I ask him if his man has a weakness, his answer is predictably bullish: "There is no weakness", he says, "With the right mind-set weakness doesn't come into it." This kind of bravado is typical of the bluster of boxing. It is part and parcel of why we love the sport. But when he explains how the two men started working together, it is difficult not to become a believer.
In 2011 Yarde wanted Ajayi to train him. Ajayi, busy at the time with other fighters, said to him, "Have you won anything?" When Yarde said no, Ajayi told him to "come back when you have." It was a simple test of the young man's mentality. Yarde passed. Some time later Yarde turned up at the gym holding a trophy. He had destroyed the competition to win the Haringey Box Cup. As Ajayi laughs at the memory a flush of pride floats across his face. From that moment it was obvious that Yarde had the characteristics of a fighter. Now, after years of training, he has the tools as well.
Before I leave I ask Yarde to tell me something about himself that no one else knows. He hesitates, like he is not sure if he should say what he is going to say. I prod him for an answer. Finally, he says: "I love my slow jams." He laughs like he is embarrassed. Of all the answers he has given me today, his declaration of love for slow, romantic R&B probably sums him up best. Yarde is never what you expect. With that revelation, my time is up. My afternoon at the Peacock Gym has come to an end. Anthony Yarde, however, is just getting started.
From an Article by @alfiebaldwin on GQ.com